http://www.artdaily.com/section/lastweek/index.asp?int_sec=11&int_new=27836&int_modo=2
"The sale of Properties of Royal and Noble Families, held at Sotheby's Amsterdam on 17 December captivated the imagination of art collectors worldwide. Bidding was truly international. The auction of 415 lots comprised selected paintings, furniture, works of art and silver, all consigned from Royal and Noble Houses in Germany, Austria, England, Russia and The Netherlands."
LOT 258
AN UNUSUAL AND INTERESTING GERMAN ARMORIAL ELEPHANT'S TUSK MOUNTED IN GOLD
PROBABLY 19TH CENTURY
20,000—30,000 EUR
Lot Sold. Hammer Price with Buyer's Premium: 48,750 EUR
bearing the date 1536, engraved and heightened in black ink with scenes from the Passion of Christ, the Madonna and Child, Saints Gregory, Burchard, Mauritz, Andrew and Kilian and an inscription in German, the wide end with four armorial devices including those of Thuengen and Steinruck, the rim and hinged cover of gold, engraved and enamelled in blue, black and white with finely scrolling foliage and applied with facetted glass beads, a cameo and a 16th century bezel of rock crystal engraved and foiled with the arms of Von Thuengen, the crest flanked by the initials E.V.T., the hinged cover applied with a very small pair of antlers attached to section of skull, inside inscribed with donor's names and applied with allied armorial shields, the narrow end of the tusk also mounted in gold enamelled in black and applied with two intaglios in Ancient style and a turquoise; together with a protecting sleeve of red felt
CATALOGUE NOTE
The text engraved on this tusk* recounts the extraordinary event of finding this supposed 'Eingehvrn' (unicorn) tusk, still attached to the animal deep under a barn that had burnt along with other buildings in the year 1536 in Thüngen near Würzburg. Members of the noble von Thüngen family occupied during the Renaissance important positions in the church, military, politics and commerce. Many supported Hans Thomas von Absberg in the so-called 'Fränkischer Krieg', a war that took place in 1523. The whole story of the finding of the tusk most probably is a myth, created to add further importance and ancestry at the object itself (and therefore also at the family who owned it). There is no known record of an eventful fire in Thüngen in 1536 and furthermore it is highly unlikely that a complete elephant -if so only a mammoth could be theoretically possible- could have been found under a building site in Thüngen at the time.
*This text herewith reproduced reads as follows:
http://ANNO.1536.AN.S.MARX TAG.25.APRILIS IST DER HOF ZV THVNGEN NEBEN NOCH.44.TACHEN ABGEBRANT.VND DARDVRCH DER ERWIRDIGVND EDEL HERR ANDREAS VON THVNGEN THVMHER ZV WIRTZB:VND PROBST ZV.S.BVRCHARD DOSELBST VERVRSACHT WORDEN.DEN SELBEN SEINEN BRVEDERN.VND ERBEN ZV EHREN WIDER VON GRVND VND AVF SEINEN EIGNEN CHOSTEN BAVEN ZV LASSEN VND IST .IM AVFBAVEN VNDER DER SCHEVRN DIS EINGEHVRN MIT SAMBT DEM http://THIER.SO GAR VERWESEN.XXIIII.WERCK SCHVCH TIEF.VNDER DER ERDEN.
Dr. Peter Volk and Dr. Lorenz Seelig of the Bayerisches Nationalmuseum in Munich, after studying this tusk in 1999, pointed out that the scenes from the passion of Christ are based on those by Albrecht Dürer, the so-called 'Kleine Kupferstichpassion'. The engraved text further specifically elaborates on the word 'Eingehvrn' -appropriately translated as Einhorn (unicorn)- and also terminates with a stylised representation of the twisted form of a unicorn tusk. A well kept secret especially known by apothecaries of the period was the fact the fabled unicorn did not exist and that every so called "unicorn" tusk actually came from a narwhal. It is easy to assume that -parallel to the story/myth of this tusk- a recipient of such a marine animal might have decided to bury the same until the tooth was needed to grind up into miraculous potions.
The tusk formerly was in the collection of the Duke of Trachenberg, Prince of Hatzfeldt of the Trachenberg Castle in Silesia (according to family tradition at least since the late 19th century). An identification of the present tusk with the so called Hatzfeldt'sche 'Einhorn' mentioned in the Hatzfeldt family inventories since 1743 however appealing seems to be very questionable.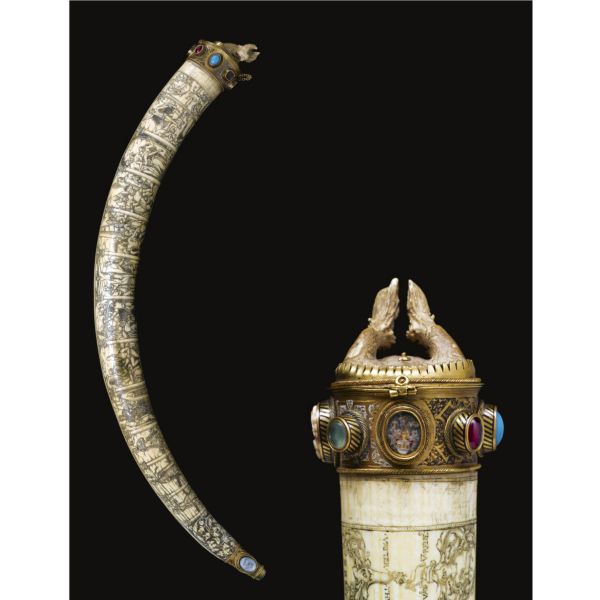 ---